---
Our goal here at St. Elizabeth Ann Seton is to make disciples who would "set the world on fire for Christ."
Jesus shared this mission before ascending into Heaven saying "Go therefore and make disciples of all nations."
This calling surpasses what we can achieve, but it does not exceed the power of Christ working within us. Which is why our Lord encompasses this mission with these words, "All authority on Heaven and Earth has been given to me... And remember, I am with you always, to the end of the age." (Matthew 28:18-20)
---
Capital Campaign: May Update from Fr. Flynn
---
We pursue this purpose at SEAS by:
Encountering Christ in the sacraments
Growing together in faith and in Christ's love
Serving our neighbors through Christ-like mercy and hospitality
We invite everyone in our community to join us as we take a crucial step forward in this mission through our Building Community for Christ Capital Campaign, which will strategically and exponentially move us forward in obedience to Jesus' mission.
---
Adoration Chapel

First, we encounter Christ by abiding in the presence and love of Jesus daily through worship and prayer.
We experience Christ at Mass, then extend and amplify this celebration through Eucharistic Adoration. In reverence we abide in His presence and thank Him for His grace and blessings in our life, and we also reach out to Him as our ever-present help amid our sins, sorrows and sufferings.
As part of this campaign, we will build an Adoration Chapel, a space dedicated for the sole purpose of bringing us face-to-face with our God, whenever and however we need without disturbance or schedule.
With your help, we hope that the adoration chapel can be built by the summer of 2024.
Family Life Center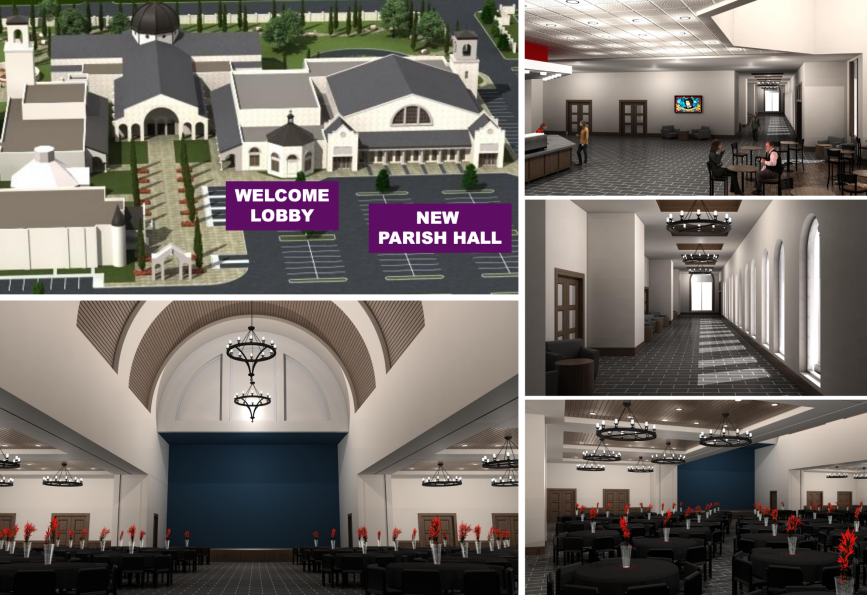 Secondly, Christ mercifully bestows grace upon us to heal and cleanse us of sin.
A faithful response to this grace requires extending the gift we have received to one another, building up one another that we may grow as a body.
Growing together in faith requires studying the truths of God in community with one another. Studying together requires a welcoming and sacred space for classes, Bible studies and fellowship gatherings of all kinds.
To equip our growing parish effectively, we must build a new parish hall, called the Family Life Center – to replace the current building that no longer meets our needs. Our hope is to build a Family Life Center where our community – young and old – will grow together as the family of God.
We hope to start construction on this Family Life Center by 2025.
Covered Walkway

Finally, our Building Community for Christ campaign will serve our neighbors with mobility issues and those who need shelter from the elements on their way to Mass or school.
Texas weather is often harsh and unpredictable, so we plan to build a covered walkway that would connect near the future Adoration Chapel to the north entrance of the church to give those who really need it access to Christ in our celebration of the Mass.
We hope to finish this project by the summer of 2024.
---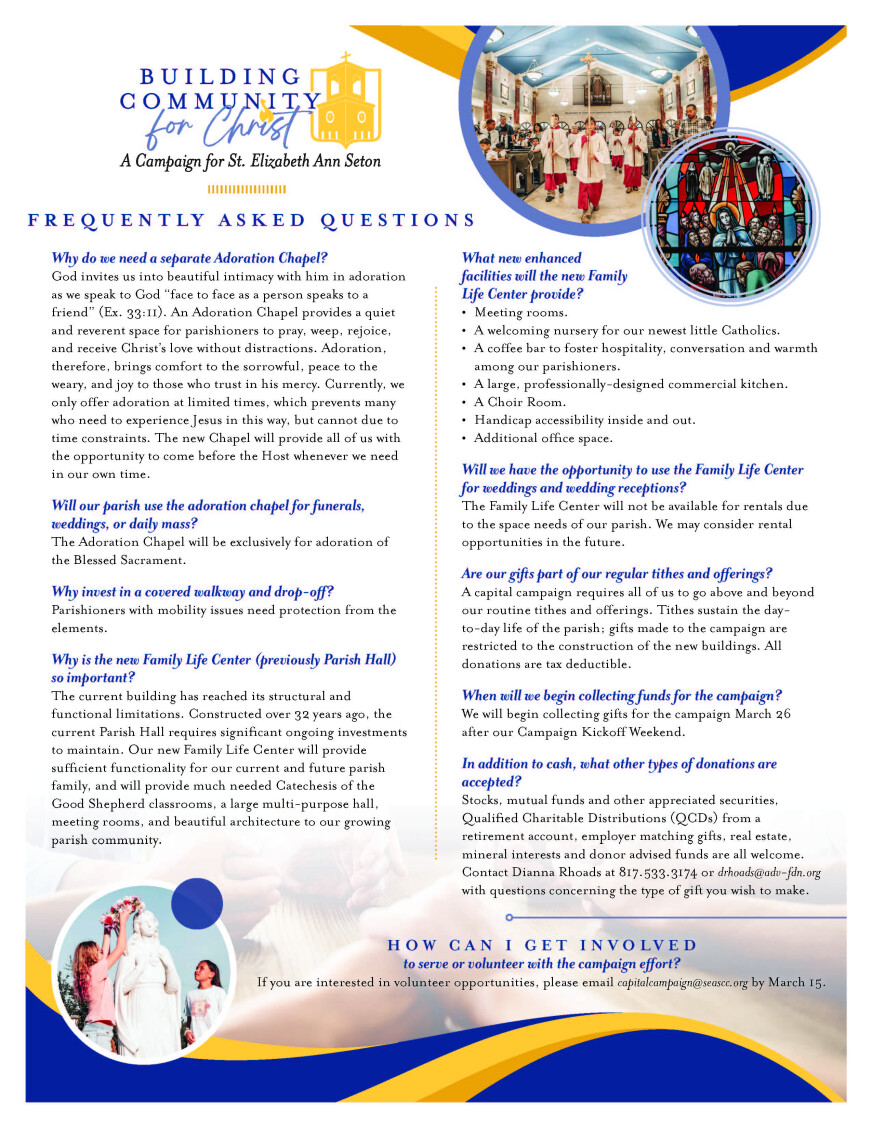 ---
I'm very excited about our 'Building Community for Christ' campaign and for the future of our parish.
More information will be coming soon on ways you can partner with us to make this vision a reality.
Thank you for your prayers, and may God bless you and your families.
- Fr. Flynn