Just One Hour
St. Elizabeth Ann Seton was blessed with gifts of grace as a wife and mother, educator and founder of a religious community, so that she might spend her life in service to God's people.
She left a legacy including religious communities whose members serve in schools, social ministries, and health care. She teaches us through her example of virtues.
Through St. Elizabeth's example, the Just One Hour initiative seeks to take the blessings each one of us has been given and apply it to our parish.
We ask that you contribute to the evangelization efforts of St. Elizabeth Ann Seton Church by giving Just One Hour of Worship, Work, and Wealth.
"Live simply so that others may simply live" - St. Elizabeth Ann Seton
Contribute:
WORSHIP ... by praying Just One Hour per week outside of Sunday Mass and other days of obligation.
That's less than 8 minutes a day, 4 in the morning and 4 at night!
WORK ... by volunteering Just One Hour per month in the parish. This could be in one of our liturgical ministries, religious education, or many other ministries.
WEALTH ... by giving Just One Hour of your salary per week to the parish to further our formation programs, activities, and missions. If you are already exceeding these gifts, please consider adding another 5% to your commitments this year.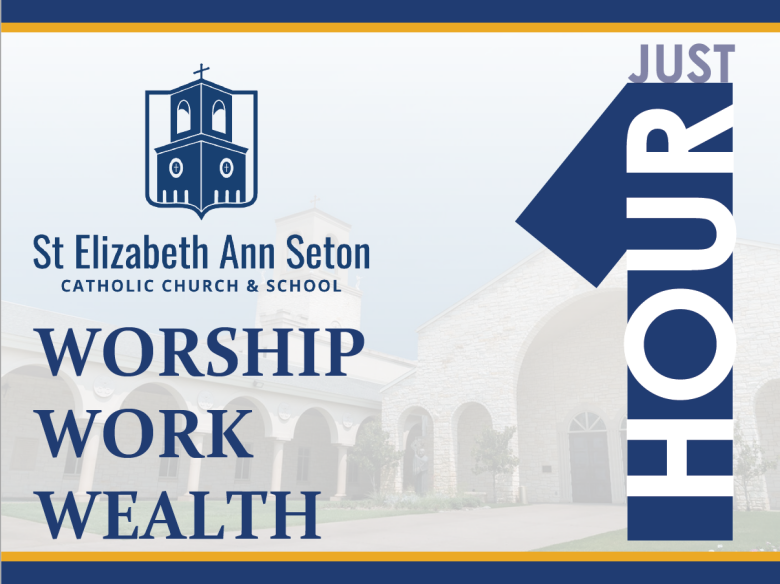 Faith Direct Program allows you to support St. Elizabeth Ann Seton through automatic debits from your back account or charges to your credit/debit card.

You can also give via text by:
Text $ Amount to 817-438-3340