After my first semester at the University of North Texas I decided to get more involved in my school, community, and church. Getting involved in my school was not difficult and I quickly found a minority pre-health society, Alpha Delta, where I was surrounded by pre-med students and other pre-health students interested in the same things I was educationally.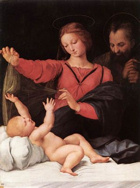 I had one item crossed off my list but I still needed two more items to cross off. I was looking for something I felt really mattered to me and to the community, someplace where I knew I would grow as a person and apply the life experiences to my pre-med and future medical career. As for getting involved in church, I was not exactly sure what I was looking for, maybe I would join one of the ministries at the Immaculate Conception Catholic Church.I had no idea what I would do.
Since I had started college I became much closer to God and felt his presence in everything I did and the decisions I made. I knew he had placed the minority pre-health society in my path so I asked him to do the same for my church and community involvement. I asked him to guide me to wherever he needed me the most. In early February of 2013,
I sat in Mass listening to the announcements when out of nowhere this young woman stood at the podium and spoke about Loreto House. She spoke of all of the wonders the mission provided for women with unexpected pregnancies or women who thought they might be pregnant; services ranging from free pregnancy tests to sexual integrity classes. Then she said the few magical words I had been searching for, "We need volunteers…," enough had been said. Loreto House would be a perfect place because it included both church and community involvement. I began volunteering on February 19

th.

Since my first day in Loreto House I have heard of many emotionally impacting stories. I have spoken to women whose lives seem to come from a movie and I have experienced some of their pain along with them. For example, there was a young college student who was uncertain of whether she was pregnant or not. She had been pregnant before but her mother had forced her to get an abortion. If she were pregnant she was determined to keep the baby this time. Sometimes it is very shocking and difficult to understand some of the women who come to Loreto House. The way they express themselves, their justifications for their reasons and their mindset project how many of them have not had the support and love everyone needs, but I admire them for looking for help and sharing their personal stories with us.
The reality is, many women have not had the opportunity of discovering the sacred value of their own life, much less of their little ones inside them. This simple fact impacts every aspect of their life and most importantly their genuine happiness. These observations drive me to do everything I can do in those few minutes I have with them to speak to them through words no one has said to them and give them back some of their dignity.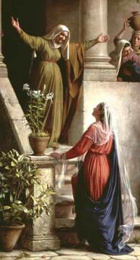 Loreto House is a support system that helps women with expected or unexpected pregnancies and celebrates women and their gift of giving life. I am honored to be a part of a place that was created for this purpose and am pleased to know that our words and acts of support, advice, and care towards these women will give them a light of hope. I have been very blessed and extremely grateful to the Lord and through Loreto House I have been given the chance to give back my appreciation for life and its blessings.
Please continue to pray for us and thank you so much for your support.